This is the site for my music. It is lofi, DIY, and minimalistic, just like the recordings. My music can be found on all major streaming platforms, including Spotify. You can also stream it right here on this site.
From time to time, I will livestream music from my basement or from a show. You can check out past shows and subscribe for future shows over at my YouTube channel.
Thanks for stopping by! If you enjoy the music, come see me at a live event or send me an email!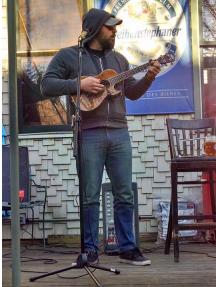 Upcoming Shows
Friday, May 6th, 2022, 8:00PM - Lucius Q, Amazing Waste w/ Sam Hibbard
Friday, August 19th, 2022, TBA - Brink Brewing, Amazing Waste
Sunday, September 25th, 2022, Noon - Cincinnati Hemp Company, Amazing Waste
Email me if you would like to book me.
Open Source Music
"This song is Copyrighted in U.S., under Seal of Copyright # 154085, for a period of 28 years, and anybody caught singin it without our permission, will be mighty good friends of ourn, cause we don't give a dern. Publish it. Write it. Sing it. Swing to it. Yodel it. We wrote it, that's all we wanted to do." -Woody Guthrie, Early 1940's
My music is free to download and share, and is "open source", meaning the lyrics and chords are also freely available. All work is licensed under a Creative Commons Attribution-NonCommercial-ShareAlike 3.0 Unported License, except those not authored my me (for those, all rights reserved).